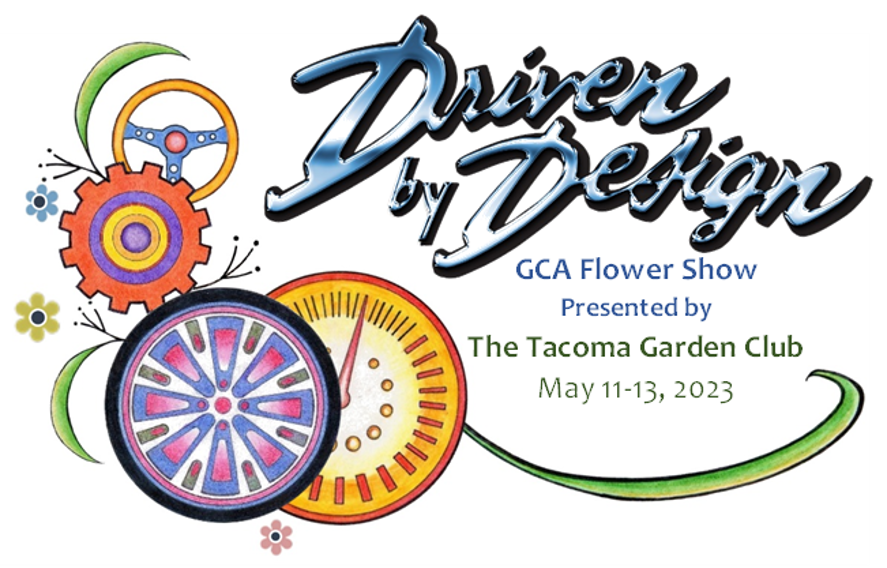 DRIVEN BY DESIGN
GARDEN CLUB OF AMERICA FLOWER SHOW
Presented by The Tacoma Garden Club
LeMay-America's Car Museum
2702 East D Street, Tacoma, WA 98421 (map)
Free and Open to the Public:
Friday, May 12, from 10:00 am to 5:00 pm
Saturday, May 13 from 9:30 am to 5:00 pm
Garden Speakers: Marianne Binetti on Friday, May 12 at 3:00 PM
Ciscoe Morris on Saturday, May 13 at 10:00 AM
Flower Show in Tacoma:
Flowers on cars, flowers in trucks, and hood ornaments made of flowers – see them all and much more at the
Tacoma Garden Club's Driven by Design Flower Show!
The Tacoma Garden Club presents a GCA Flower Show, "Driven by Design." The show will feature exhibits from
floral designers, horticulturists and photographers from across the country. National judges will critique and
award ribbons to winning entries.
Featured Exhibits Include:
Aerial Floral Designs featuring floral arrangements interpreting classic cars in the lobby of the museum.
Floral Designs inspired by themes such as, "Are We There Yet?," "A Long and Winding Road," "All I Wanted Was
a Car," and "A Tailgate Party" will be on the second floor of the museum.
Botanical Arts displays tiaras and hood ornaments crafted from dried plant materials.
Horticulture Exhibits showcases cut specimens of locally-grown plants as well as container plantings.
Photographs with car-related themes such as "Rev it Up," 'Roadside Attraction," "Vintage Glory," "Scenic
Byways," and "Classic Beauty" will be displayed.
Educational Conservation Exhibit informs us of the restoration and protection of native plants along salmon
streams in Pierce County's watersheds.
Entrance to the flower show is free. Two additional exhibits are located in the museum and discounted tickets are available.
The Tacoma Garden Club was organized in 1925 and joined the Garden Club of America in 1928.
Since 1963, the club has been supporting and maintaining the Northwest Native Plant Garden in Point Defiance
Park.